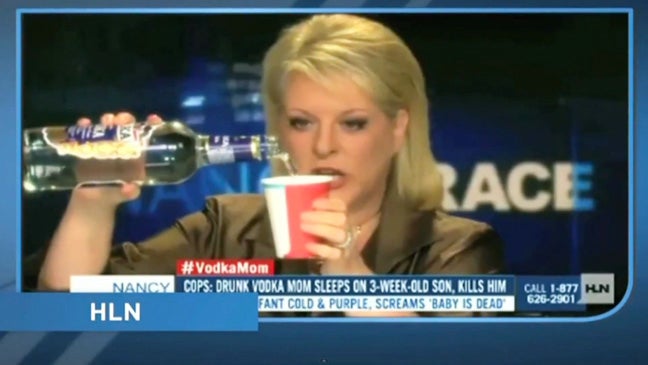 It was going to take something really off-the-wall before I'd feature Shiitake-Worthy regular Nancy Disgrace back on this blog again, but here she is. It's Nancy Grace being Nancy Grace, but this rant was so unbelievable, even fellow victim industry blowhard Mark "The Ass" Klaas pretty much felt she was full of shit.
This is Nancy Disgrace at her finest. This is over-the-top even by Nancy Grace standards.
http://www.examiner.com/article/nancy-grace-features-missing-toddler-noah-chamberlin-focuses-on-sex-offenders
Nancy Grace features missing toddler Noah Chamberlin: Focuses on sex offenders
Use your key for the next article
Next: 'The Curse of Oak Island': Nearing the end
Nancy Grace, desperation edging her voice, asked rhetorically Tuesday night, "Where is Noah Chamberlin?" She featured the ongoing investigation and search for the missing toddler for half of her HLN show, pointing out that conditions were well below freezing in the Tennessee mountains where the child went missing, making it imperative that the child be found, and soon. Perhaps just as worrisome, Grace noted that there are 28 registered sex offenders within ten miles of his grandmother's Pinson, Tennessee, home -- the place where he was last seen.
The Noah Chamberlin story went national Tuesday night (January 19) on "Nancy Grace" as the former Georgia prosecutor featured the 2-year-old's plight on her eponymous current affairs show on HLN. And although it was noted that the focus was on a list of sex offenders in the area, she would later acknowledge that the chances of the toddler being kidnapped and taken from the Tennessee woods behind his grandmother's house were minimal.
As it turns out, the primary focus has been on finding the 2-year-old. As the incident is still being treated as a search and rescue effort, checking and investigating the registered sex offenders in the area had been standard procedure. However, as Grace discovered when talking with reporter Michael Quander of WREG in Memphis that the terrain where Noah Chamberlin disappeared is not only heavily wooded but contains various drop-offs, ravines, gullies, streams, and caves where the little boy could have wandered. Add to this that the area is also timber country, where stumps and rotting remnants of old trees can produce sinkholes with just the slightest bit of pressure and the scenarios for a missing toddler multiply.
At one point Grace asked where the grandmother lost sight of her grandson. Recounting the story that the grandmother had turned her attention to her 4-year-old granddaughter for a minute, Grace questioned the length of time that the grandmother may have become distracted. Perhaps it was a bit longer than a minute? At first confused by information that authorities might not know the exact location where the grandmother last saw the child, that was later cleared up, as Keith Sherley, news director of WNWS in Jackson (Tennessee), noted that investigators did have a specific location, not to mention search dogs had picked up the child's scent through the woods and around the area he was last seen. (However, it is uncertain how well the dogs can pick up scent in cold weather, and use of the dogs has not appeared to have been much help.)
As for the registered sex offenders, Mark Klaas of the KlaasKids Foundation (a missing person resources organization), was brought in to provide his expert opinion on kidnappings and missing children cases. Speaking to the 28 sex offenders found in the Pinson, Tennessee area (within a ten mile radius of the grandmother's house), Klaas noted that the chances were "far-fetched" that a little boy would have been kidnapped while out on a random hike with his grandmother and sister. But Nancy Grace, who talked of her own fear when she lost sight of her own kids, pointed out that, even so, it happened. She reference the 2005 kidnapping of the Groene children, where the perpetrator killed all the adults at a house in a remote area in Idaho, then made off with two children, one of which he later murdered. Klaas admitted to the possibility but stressed that it was unlikely, given the details.
Tracy Sargent, a search, rescue, and recovery expert, further explained that a small child like Noah Chamberlin would not put off much of a scent -- because of his size and because of the cold weather. She noted that scent wears thinner as time goes by as well, so the tracking dogs brought in, depending on when they were placed to track, could also determine how well they were able to pick of the child's scent.
Nancy Grace repeatedly made note of the plunging temperatures in western Tennessee during the segment. Weather forecasts were predicting temperatures to be as low as 8 degrees, far below freezing level. She brought in forensic expert and certified death investigator Joseph Scott Morgan, who detailed the risk of hypothermia in such conditions. He explained that the severe cold could produce disorientation, lethargy, and that those suffering its symptoms tended to want to lay down and sleep. Doing so, however, only hastens the body succumbing to the effects of the cold.
Nancy Grace ended the segment by noting that she was in no way trying to place blame on the grandmother or the family with her questioning. The most important thing, she acknowledged, was finding the missing child.
Noah Chamberlin has been missing since Thursday, January 14, when he and his 4-year-old sister were taking a hike through the woods with his grandmother. The grandmother says she lost sight of the little boy after paying attention to her granddaughter for a minute. After a quick search, she reported the child missing at 1:19 p.m. (CST).
Since then, hundreds of law enforcement, military, and first responders, not to mention thousands of volunteers from a handful of southern states have scoured the Tennessee woods behind the grandmother's house. Tracking and cadaver dogs, as well as helicopters and individuals outfitted with thermal and night-vision devices have been implemented in the search -- all to no avail.